Hi!
I'm feeling increasingly guilty that I haven't posted anything in a few days, I've not really done anything interesting apart from baking up a storm in my kitchen, slept a considerable amount and suffered from my worst migraine in over a year.
I'm still not really feeling well enough to write anything incredibly exciting but I thought I would share what I have lined up on my kindle for the next couple of weeks – this being the ultimate way of using 'copy and paste' rather than actually writing an original post. So sue me!
I will let you know though, on the 11th of April I will be publishing my first post on a Blog Tour for the lovely Kelley Kaye and her book 'Death by Diploma'. I won't give anything away apart from the fact that I adored it, so check it out if you're looking for a cosy mystery to keep you company of an evening.
So, in no particular order, here's what I've got lined up!
Escape (Lake of Sins #1) by L.S. O'Dea
Recommended to me after reading Rise of the River Man and having a little cry at the ending.
Backbreaking work from dusk to dawn is just a typical day for sixteen year old Trinity, but that is about to change.
Harvest is over which means that it's time for the less than perfect teens to be removed from camp. Trinity is okay with that. It's just another stage of a Producer's life, but she fears her new home will be like her old one unless she can figure out a way to make friends.
She's different than the other Producers and even though she's hidden her fangs and claws her entire life, the others still sense her strangeness.
She concocts a plan to sneak into the forest and discover where the teenagers are taken every year. Once she figures that out she can return home. The other kids will be dying to learn the secret which means that they will have to talk to her and once they get to know her, they'll like her.
Escaping into the forest is simple; she's done it before, but never at night. That is different. So is the feeling that she is being followed.
When she stumbles across a new creature, a large fish-like river man, that is only the beginning of her adventures in the forest.
She is hunted, captured, and befriended but she still needs to discover the fate of her kind and return home before the week is up or her mother will be punished for her escape.
The Rise of Ares: Mortal Sins by Serge Alexandr
200 years in the future, after the technological revolution has come and gone, the solar system is stagnant, reveling in its legacy. Financial inequality has split the race into two; those that can afford genetic engineering and those that cannot. While the Rachten, the wealthy few, have access to patented genes that prolong life and increase intelligence, the mega-corporations they own feed off a carefully managed population; crammed into decaying city stations strewn about the outer solar system.
To even the odds, Ares opts for expensive implants and tech upgrades. Unable to meet his loans, he quickly finds himself on the run from the Bank. But there is nowhere to hide in a universe where everything, and everyone, is an eye.
His flight takes him on a journey across a solar system on the verge of change, plagued by dissonance (despite the shiny veneer of the inner system), technological and engineering marvels, AI hidden from the world, and strange rumors from the Oort that have the solar system on edge. 
However, he soon discovers there is more to events in his life than he ever realized. That realization, that he is a pawn in a game he can't even fathom, sends him spiraling down a slow, dark, madness.

Sacrificial Lamb Cake by Katrina Monroe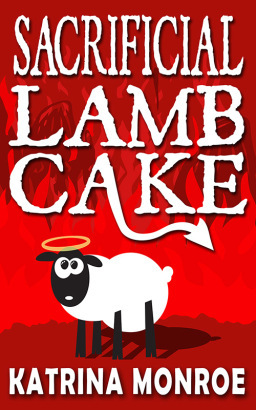 Oh. My. God.
Rain Johnson escaped the insanity of her radical environmentalist family, only to end up waitressing for a living. Her scale of success—with her at the bottom—only goes as high as that college degree she never got, until she gets one hell of an epiphany from a Trinity Corporation public-relations guy who calls himself Jude. He tells her she's the Lamb of God, and it's time for that whole Second Coming thing. But when her first minor miracle gets her arrested and an ecoterrorist using the name Messiah starts blowing up pesticide plants, Rain and Judas are in for way more apocalypse than either of them expected.
Jude scrambles to save his personal plan for salvation, but Lucy, the devil herself, has her own well-laid plans. It doesn't matter that Rain's a conflict-avoiding lesbian and Jude is history's worst traitor. They're all that stands between humanity and an end of the world that wasn't supposed to happen.
Stake-Out and Miranda's Rights (Paranormal Detectives books 1 & 2) by Lily Luchesi 
Stake Out
Detective Danny Mancini is on a case, following a murder suspect. When he catches him, he finds out that the perp isn't even human: he's a 200 year old rogue vampire!
The department doesn't believe him, and puts him on early retirement, despite his many years of service to the Chicago Police Department, which sends him into a downward spiral.
Two years later, Danny gets an invitation from the beautiful, young and very attractive Detective Angelica Cross to join a secret branch of the FBI to help her track down Vincent, the wayward vamp.
But renegade werewolves, meddling immortal witches and Danny's strange visions of a life lived a century ago with Angelica make things more difficult than it should be.
Miranda's Rights
The dead don't always rest easy…
Retired detective, Danny Mancini, is haunted by nightmares after he found out that paranormal creatures exist. All he wants is to forget them…especially a certain half-vampire. When cursed werewolves show up trying to kill him, he is forced to go back to the Paranormal Investigative Division for help against a powerful old enemy. What he was not expecting was a dead ex showing back up after twenty-six years.
Every Kingdom Divided by Stephen Kozeniewski
This author has recently become a favourite, so chances are this will be quite high on the list!
2035 A.D. After the 2nd American Civil War Jack Pasternak, a laid-back California doctor, receives a garbled distress call from his fiancée in Maryland before her transmissions stop altogether. Unfortunately for Jack, citizens of the Blue States are no longer allowed to cross Red America. He is faced with an impossible choice: ignore his lover's peril or risk his own life and sanity by venturing into the dark heart of The Red States. When the armies of the Mexican Reconquista come marching into Los Angeles, Jack's hand is forced and he heads east in an old-fashioned gas guzzling car. Stephen Kozeniewski, writer of Braineater Jones, The Ghoul Archipelago and Billy and The Cloneasaurus, brings an epic future adventure.
I Kill In Peace by Hunter Shea
Peter Blades is, in every sense of the word, an ordinary man. Hard worker, father, husband, a man content with small-town life. Except for one small fact—he's slowly being turned into a ruthless killer.
Compelled by mysterious texts to murder, he's provided a fiery red Mustang and an ancient sword to carry out an ever-growing hit list. His jerkoff boss is victim number one. You always remember your first.
By the time his sword sings through the air to dispatch a would-be school shooter, taking lives is as easy as breathing. And if the world is going to hell around him, all the better. No one wants to burn alone.
Fall of Light (Kharkanas Trilogy #2) by Steven Erikson
I've done it again…. picked book 2 of a series because I was lured in by a sexy cover. I'm a marketing department's wet dream, I tell you.
It is a bitter winter and civil war now ravages Kurald Galain, as Urusander's Legion prepares to march upon the city of Kharkanas.The rebels' only opposition lies scattered, bereft of a leader since Anomander's departure in search of his estranged brother, Andarist. The last brother remaining, Silchas Ruin, rules in Anomander's stead. He seeks to gather the Houseblades of the Highborn Noble families and resurrect the Hust Legion in the southlands, but is fast running out of time.
The officers and leaders of Urusander's Legion, led by Hunn Raal, want the Consort, Draconus, cast aside and Vatha Urusander wedded to Mother Dark, taking his place on a throne at the side of the Living Goddess. But this union will be far more than political, as a sorcerous power has claimed those opposing Mother Dark – given form by the exiled High Priestess Syntara, the Cult of Light rises in answer to Mother Dark and her Children.
Snakewood by Adrian Selby
Once they were a band of mercenaries who shook the pillars of the world through cunning, alchemical brews, and cold steel. Whoever met their price won.
Now, their glory days behind them, scattered to the wind, and their genius leader in hiding, they are being hunted down and eliminated one by one.
A lifetime of enemies has its own price.
So there it is – my kindle reading list for the next couple of weeks! There are some hardbooks that I should also mention, but I realise that a TBR post is actually hard work…
I'm off to bed now, with work in the morning – I will be attending the wedding of some dear friends on Thursday though so I will have plenty to share later on this week! I hope you had a good weekend, even if, like me, you don't celebrate Easter.
Much love.