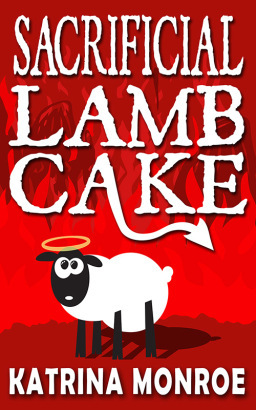 Synopsis:
Oh. My. God.

Rain Johnson escaped the insanity of her radical environmentalist family, only to end up waitressing for aliving. Her scale of success—with her at the bottom—only goes as high as that college degree she never got, until she gets one hell of an epiphany from a Trinity Corporation public-relations guy who calls himself Jude. He tells her she's the Lamb of God, and it's time for that whole Second Coming thing. But when her first minor miracle gets her arrested andan ecoterrorist using the name Messiah starts blowing up pesticide plants, Rain and Judas are in for way more apocalypse than either of them expected.
Jude scrambles to save his personal plan for salvation, but Lucy, the devil herself, has her own well-laid plans. It doesn't matter that Rain's a conflict-avoiding lesbian and Jude is history's worst traitor. They're all that stands between humanity and an end of the world that wasn't supposed to happen.
---
*Many thanks to the author for a complimentary copy in exchange for an honest review*
Publisher: Red Adept Publishing, LLC
Cover art: Red Adept Publishing, LLC (if you're reading this, publisher- please administer a high five to the person in charge of designing this cover)
---
This book came to my attention via Twitter and the cover sealed the deal, the title was perfect and the artwork appealed to me immediately. A cartoon angel sheep standing before the pits of hell – what's not to love?
The premise of this book was highly original and very, very funny – Judas Isacriot is given the chance to redeem himself but not really given much to work with, as Rain the new Messiah couldn't be more poorly suited to the role. Together, they have to avert the accidental apocalypse and save humanity – simple.
I liked the way in which this story brought the Bible into the twentyfirst century, acting out old stories in a modern setting with the weird and wonderful characters that we don't even look at twice today – namely Rain, the underachieving, former-hippy lesbian.
The 'deal with it' approach to having a lesbian main character was also beautifully refreshing!
This book doesn't criticise religion but is the product of an irreverent sense of humour, so if you don't like Christianity being taken lightly then this isn't the book for you but I definitely wouldn't consider anything in it to be offensive.
In fact, this book is the first I've ever read that's actually made me think about religion and reconsider my opinion. Specifically, the church that I grew up with was anti-Judas, painting him as one of the worst human beings that ever lived- whereas this book says that he was a man who made a mistake. This is something I've been pondering ever since.
This book was a little bit of a slow starter, but I was determined to stick with it and am glad that I did because the ending was phenomenal. It picked up the pace about halfway through and took a steady lope to the grand finale.
The characters weren't particularly relatable but they were very entertaining, my favourite being Rain's mother: the militant hippy with an axe to grind. She was definitely the funniest character, though this was unintentional on her part!
If you're looking for a humourous and sarcastic read (if not, why not?!), this is the book for you – at 200 pages long, you have no excuse to pass it by!